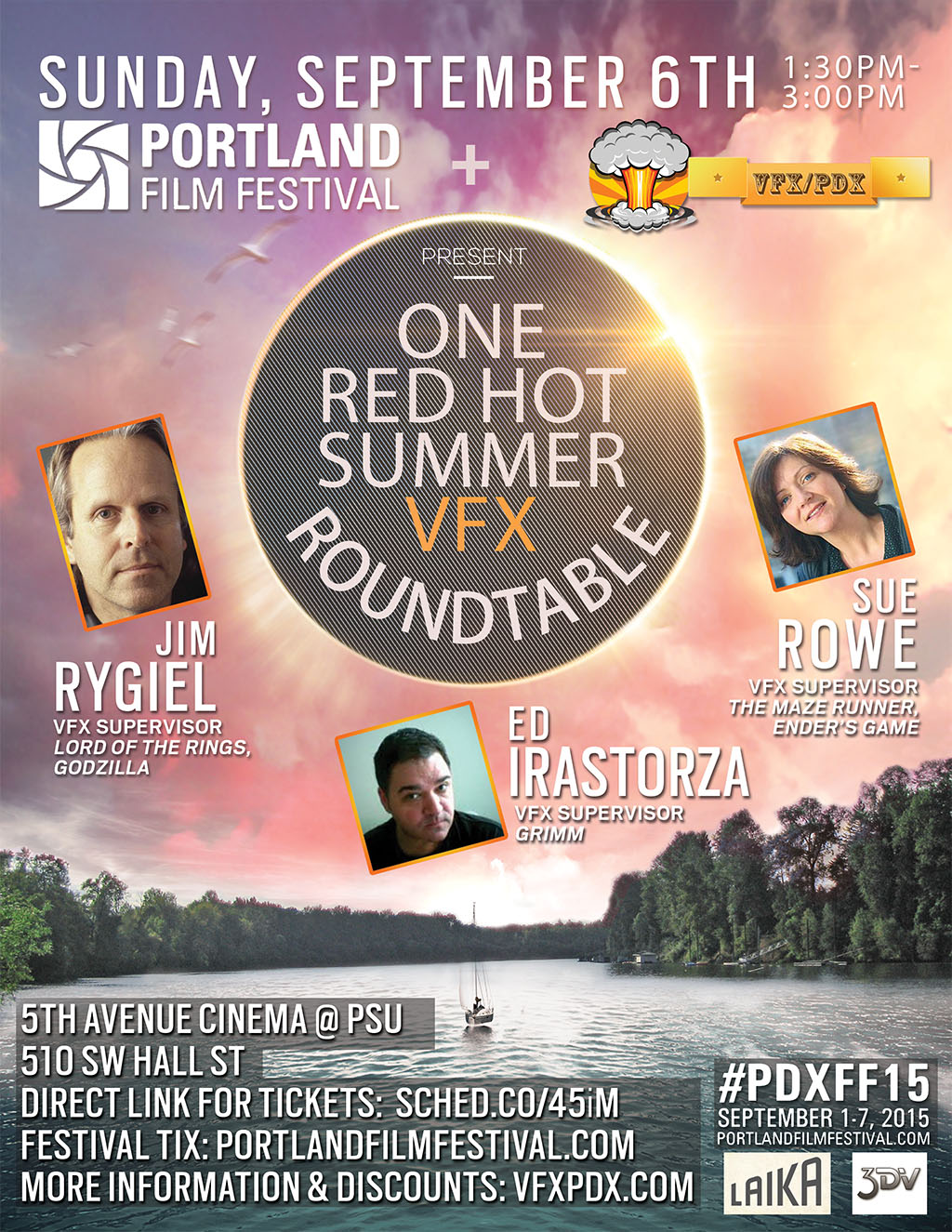 Blame it on global warming, but there's no denying the temperature is rising here in Portland, and I think we finally found out the reason.  Calling this event "red hot" almost doesn't do it justice, as it's shaping up to be one of the landmark VFX events that stays with us for years.  Special thanks to organizer Dawn Macleod and the Portland Film Festival for bringing some serious talent to the table.
Jim Rygiel is a three time VFX Oscar winner as a member of the seminal Weta Digital Lord of the Rings crew; most recently Jim was supervising the Godzilla reboot.  Sue Rowe comes down from Vancouver BC, where she has been helming such blockbusters as The Maze Runner, Ender's Game, and John Carter.  As if that wasn't enough firepower for one afternoon, it just wouldn't be complete without some Portland representation, and Ed Irastorza is taking time out from a busy shooting schedule on Grimm to join in on the fun.
Moderated by LAIKA and VFX/PDX (with a healthy amount of audience Q&A planned), it probably goes without saying that you need to cancel whatever Labor Day weekend plans that were taking you out of town and stay close for this one!
Seating is limited and you've been warned that this will hit capacity quickly, so act now.
Direct link to tickets for this event.
Or have a look at the festival pass offerings here.
Your handy VFX/PDX discount code is: "VFXDISCOUNT" – good for 10% off the industry pass or festival pass.
Thanks to 3DV, LAIKA, and the Portland Film Festival for sponsoring.  Giveaways will include, among other things, a copy of Blackmagic DaVinci Resolve Studio and Blackmagic Fusion Studio.  See you all there!
VFX Roundtable Panel
Sunday, Sept. 6th 1:30pm-3:00pm
5th Avenue Cinema (@PSU)
510 SW Hall St
Portland, OR 97201