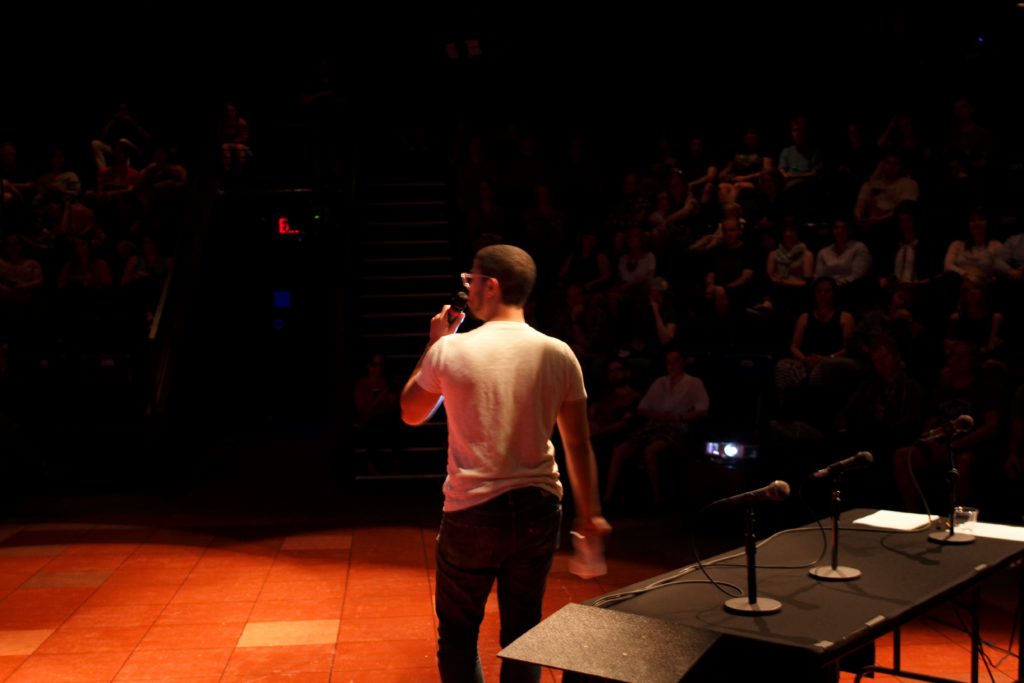 Wrapping up another fun and inspirational Design Week, I wanted to take a moment to recognize and thank all involved with our annual Animation Challenge and Demo Reel Review event.  First and foremost, thanks to Jamal Qutub of AEPDX fame for organizing the Alphabest section of the evening and doing plenty of animation himself in addition to all of the arrangements, walk throughs, coordinating, designing web pages and posters, and other selfless donated time.
I'd like to thank Sarah Bills and the crew (Shawn and Dave) at the Artists Repertory Theatre, the venue.  We can't blow up a spot without having a spot to blow up, and it's hard to argue with perfection, from your 25′ projector screen, well staffed & stocked cash bar, and perfect seating for our near capacity crowd of 200.
Finally, I need to thank the judges for the Reel Review.  Dawn Macleod, Brian Smith, and Blain Klitzke could not have been more spot on and helpful.  Thanks to the brothers Macey at 3DV who helped with our projection needs and provided sponsorship support, as did 52 Ltd, OMSI, and Scopic.
With a hefty thanks out of the way, let's next give props to our winners!
Head on over to the AEPDX tumblr to relive the magic that was Alphabest, complete with links to watch (most of) the animations again at your leisure.  I'll do my best Barney Stinson and just say, "Challenge accepted!"  You all brought it in a big way – we laughed, cried, and hit the full range of emotion from A-Z.
And, in that vein, the Reel Review was legend…   wait for it…  dary.  You all have been keeping very, very busy and saying this year's pack of reels was inspirational is an understatement.
Our overall winner was motion designer Chip Webster, who's stellar reel can be viewed here.  Chip takes home the entire Trapcode Suite courtesy of Red Giant, plus a year of training from Lynda.com
Our category winners also won big on the night.  Daniel Short, a Compositor fresh on the Portland scene from NYC, won a copy of Blackmagic Design's Fusion Studio + the fantastic Neat Video noise reduction plugin by wowing us with this reel.  The 3d category winner saw Ramiro Gomez blew us away with a character rigging clinic built into in his reel, which was an education to say the least and not something I'd ever really seen before.  Ramiro takes home a copy of SideFX Houdini Indie 15 for his effort.  Honorable mention to character artist Felipe Mirez for his "demo reel UI" that serves as a great way to identify what roles he plays in each project – you can see that here.  Last but not least, the motion category winner (2nd to Chip, the overall winner) was McKay Marshall, who takes home the license of the new Trapcode Tao plugin for his awesome reel of precision motion design.
Overall an incredible night, and one we look forward to repeating each April as Design Week (in it's new time slot) rolls around each year.  Next year, I promise to take more photos!